Nick Cordero became a victim of COVID-19 and departs this earth on July 5

Nick Cordero one of the famous Broadway actors who come into the limelight in 2014 for bullets over broadways likewise he was also nominated for Tony award for best featured actor.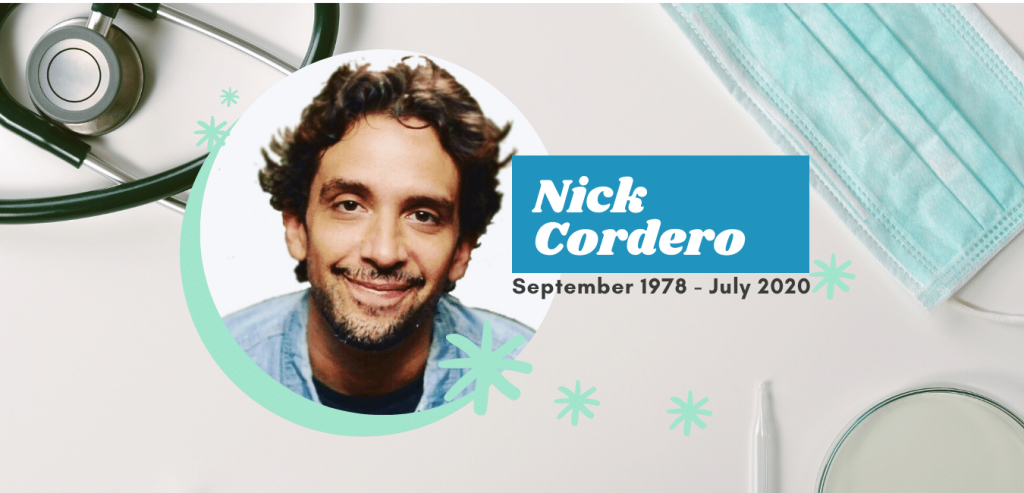 Nick became victim of corona in March 2020. He was even admitted in hospital in March. His condition was not that well as he was going under treatment of dialysis, extracorporeal member oxygenation (ECMO). But unfortunately his condition was getting even worst and his wife Amanda Kloots makes his fan aware about his condition by posting in her gram. She even clear that his condition was getting worst and he is fighting for his survive and asked audience especially his fans to passed positive energies so that he gets courage to fight with his disease.
In April 18 2020 Nick has his surgically cutting off limb of his right leg. However his condition was getting pretty well even his wife was grateful for everyone support and called Nick a fighter but in may 1 2020 doctor reveals that his lungs gets damage. The news was quite heavy for his wife and family to accept. Amanda gets nervous after the news she even expressed in her grams and the news left most of his fans in tragedy. Nick family and wife knows that it's hard for him to survive but still they were giving them hope so that he can rise his well power and may some miracle happen. Kloots wants to pass positivity toward him all the good energy so that he could feels goods and forgets his pain. She shared her and their son loves to him saying "don't give up". She post lengthy poem in her grams by encouraging him asking him for not giving up easily in 20th June. The journey was really tough for Nick and his family especially for his wife and one year old son.
After spending 95 days in Cedears Sinani medical center in July 5 2020, nick loss his life. He was not able to face the pain anyone and he lost his life. According to doctors, he was suffering from world wide spread virus (Covid-19) which damaged his lungs and makes his breathing system difficult and ECMO. Well the news was quite heartbreaking for everyone though everyone was familiar with his situation but everyone was praying for his existence and gathering positivity for him even his friend's relatives felt worst about his demise and they shared their thoughts in social media specially in twitter and instagram.
Nick Cordero Biography
| | |
| --- | --- |
| Name | Nick Cordero |
| Birth | 17th September 1978 |
| Birth place | Canada |
| Demise | 5th July 2020 |
| Location | Cedears Sinani Medical center, Los Angeles. |
| Age | 41 |
| Nationality | Canadian |
| Sign | Virgo |
| Religions | Christianity |
| Height | 5 ft and 11 inches |
| Weight | 78kg |
| Famous as | Actor |
| Marital status | Married |
| Wife | Amanda Kloots |
| Children | 1 |
| Son | Elvis |
| Eye color | Brown |
| Hair color | Black |
| School | West dale Secondary school |
| University | Ryerson University |
| Net worth | 7 million US Dollar |
Nick Cordero Personal life
Nick was born in Canada but he was raised in USA. His parents were school teacher and his father was immigrates. Nick was quite smart and pretty humble from his childhood. He was graduated from West dale secondary school in Hamilton. After that he joined Ryerson University but after years he left his university education so that he can perform in band love method.
Nick Cordero Carrier
Nick used to appears in many dramas and series for few episode but no one notice him even in 2010 he was appeared in few episode of Blue blood but audience failed to noticed him however he keep going. And in 2012 he makes his official debut from broad way production of "the toxic Avenger". Beside that in 2012 also he played role of Dennis in "rock of ages" which was also produced by broad way. It seem as he has done lots of contracts with Broad way production as he did lots of work with the production.
In 2014 he came's into limelight and in audience attention cause of his role Cheech in "bullets over broad way". In the same year he was nominated for toy award for best featured actor in music and the drama desk award for outstanding featured actor in musical.
In 2016 he played character of earl in "waitress" but after few time he left so that he could join musical A bronx tale. In same year at the end he played in Longacre Theater.
In 2017 he performed the role of victor lugu in out of the blue and heavy is the head. In 2017 nick was nominated for outstanding featured actor in musical in drama desk award. In 2018 he makes his appearance in 12th episode of your six seasons 8.
Nick was always awesome dancer and actor in broad way even his copartner feels good working with him cause of his humbleness and kindness. He was one of the most supportive and encouraging actor in the industry.
Relationship status
If we talk about his relationship then it is quite hard to figure out with whom he was in relation for how many times period in his past. But if we talk about present then he is married with Amanda Kloots in September 3rd 2017. The couple first meet in 2014. Amanda is a former radio city rockette and broad way dancer.
The couple did formal wedding in present of their parents and friends. On their special day they both performed in "it had to be you". In July 19th kloot shared their first some wedding clips in her instagram. In 2018 the couples post in their grams as they were expecting. They shared their happiness and excitement to be a parent as they expresses that they always dream of having family together. The couples seems pretty active in social media as they keep posting their news and happiness in instagram. Even they share their son birth news in the media they expressed how they feels and grateful for everyone blessing. The couples seems perfectly fine and enjoying their small family.
Nick Cordero social media
Nick Cordero is extremely active in his social media as he keeps posting his emotion with his pictures in his social media. He never felt to express in social media especially in instagram. He has 70.4 k followers in his account where he did his last post in 19th march posting his wife and one years old son picture captioning as his family is his blessing.
More than nick his wife Amanda is more active and getting more followers that is 440k followers. She keeps posting about him even she is the one who makes his fan aware about his health condition. Beside that she informed in social media about the loss of nick. She shared most news of nick with his fans and public even she asked for praying and tried to pass positive energy towards nicks through her account so that he can come up as a fighter and survive happily till his last breath.
Nick Cordero Net Worth
Nick was one of the fine actor and dance of Broad Way. He has good sources of income as he is well known actor. His net worth in 2020 is around 7 million US Dollar. He used to live good life with his family full of luxury.
Some amazing facts of Nick Cordero
Nick won outer critics award for outstanding featured actor in musical and theater world award for the role.
Nick was ranked as 945th most famous Canadian
Among the most famous person worldwide nick was ranked in 32121st position.
And as a famous actor worldwide he was ranked in 3735th position.
Nick was awesome partner and blessed father.